Indigo Dreaming - Choice of 3 products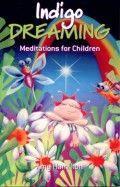 Indigo Dreaming BOOK of Meditations for Children.
A fun and magical way to introduce children to relaxation and meditation. The book contains 49 fully guided meditations for children aged five to twelve. It is an ideal resource for parents, teachers and health professionals. The book includes activities, tips and information on how to begin and end a meditation. It is easy to read and simple to use.
Each meditation will take children on a different journey and explore a different life skill or value. Children will learn to use breathing techniques, muscular relaxation, visualisation and affirmations in order to relax their mind and body and to find that place of knowingness within. These meditations help children develop self-awareness, believe in their potential and encourage their creativity and imagination.
Author: HAMILTON AMY

Indigo Dreaming Children's Meditations CD
This CD contains the sound recording of Indigo Dreaming A Magical Bedtime Story Book for Children, two awareness activities and a selection of visualisations to introduce children to meditation and relaxation techniques and to enhance their mind, body and spirit.Enjoy the magical bedtime story of Indigo the Rainbow Pixie and the Enchanted Lotus. Learn breathing and body awareness with Balloon Breath and Elastic Band. Create your own special place with Magic Garden. Meet your Guardian Angel and discover the Wishing Tree and its secrets. Learn the magic properties of the Circle of Light and how to make every day full of fun and positive experiences with Sunrise and Sunset.The story and meditations are accompanied by the beautiful music of Christine Morrison, composer & teacher.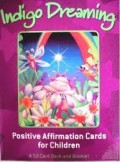 Indigo Dreaming Positive Affirmation Cards CARDS
This beautifully illustrated set of 52 cards will teach children to focus on positive ideas, values and feelings to develop their sense of self-worth. A fantastic way to build confidence and to empower children with positive thoughts to create wonderful life experiences. All of the Indigo Dreaming Cards have a positive affirmation with a values-based message that promotes positive thinking about themselves and others. The set also contains three magical golden cards with special messages that will delight children of all ages.Each positive affirmation card relates directly to meditations in the Amy Hamiltons book INDIGO DREAMING. The cards can be used in conjunction with the book or as a wonderful resource on their own.The card set includes an instruction booklet outlining different activities and ideas for using the cards.
Author: HAMILTON, AMY
(IDprod)
Be The First To Review This Product!
Help other Equilibrium users shop smarter by writing reviews for products you have purchased.
Others Also Bought
More From This Category